AIVR in anterior wall myocardial infarction after thrombolysis
|
Last Updated on
AIVR in anterior wall myocardial infarction after thrombolysis

Accelerated idioventricular rhythm (AIVR) with regular retrograde P waves. Retrograde P waves are seen just after the QRS in L2 and L3. The P waves are not that evident in L1. The retrograde atrial activation will result in regular cannon waves in the jugular venous pulse. Even though the QRS complex is almost 120 milliseconds in width, at one look it may appear to be not that wide and the AIVR can be missed.

In this tracing the wide QRS is quite evident. The P waves are not very evident, though careful examination will reveal the slight notching of the upstroke of the T waves.

The fourth beat shows a P wave with reasonable PR interval and a QRS which is narrower than the initial three beats, suggesting that it is a fusion beat. The last beat is preceded by a P wave and has a narrow QRS indicating that it is a capture beat.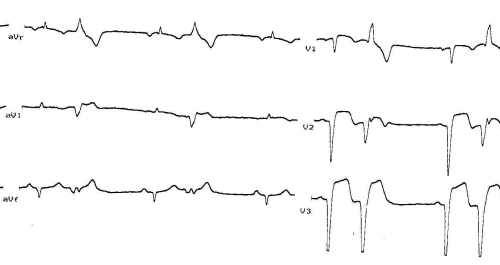 Deep wide Q with ST elevation seen in V1 – V3 suggesting anterior wall myocardial infarction (AWMI). Ventricular premature complexes (VPC) are also seen in bigeminal pattern. This person with anterior wall myocardial infarction developed AIVR, VPC as well as ventricular fibrillation (VF) requiring a couple of DC shocks. AIVR is an important reperfusion arrhythmia which usually needs only observation and no active treatment. If it does produce hemodynamic problems, which is quite unlikely due to the medium rates, it can be over-ridden by accelerating the sinus node with intravenous atropine. The advantage of sinus rhythm is of course, the AV synchrony, which is useful in the setting of myocardial infarction with systolic and diastolic dysfunction. Interventricular and intraventricular synchrony will also be better with sinus rhythm. AIVR is also sometimes called slow VT (ventricular tachycardia).