Balloon mitral valvotomy fluoroscopic images
|
Snap shots of balloon mitral valvotomy fluoroscopic images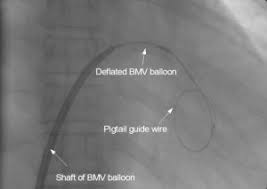 Screenshot of the fluoroscopic image showing the balloon mitral valvotomy (BMV) balloon across the interatrial septum in the left atrium (LA). The left atrial pigtail guidewire is also protruding out of the deflated balloon in the left atrium. The pigtail wire prevents the balloon tip from injuring the left atrial roof while passing across the interatrial septum into the left atrium.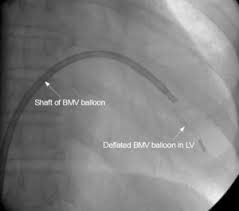 This screenshot shows the deflated balloon in the left ventricle (LV). The guide wire has been removed. The stillet which was introduced prior to entry into the left ventricle to curve the balloon assembly to facilitate LV entry has been partially withdrawn to minimise trauma to the left ventricle. Presence of the stillet will increase the stiffness of the assembly and increase the trauma to the left ventricle in systole while the balloon is in the left ventricle.
Initial partial inflation of the balloon causes the distal half of the dumb bell shaped BMV balloon to expand first. The distal half is tugged against the mitral valve by pulling back the shaft to ensure correct position for inflation. During proper tugging the arterial pressure tracing will show a dip due to obstruction to LV inflow.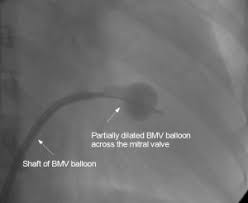 Once the position across the mitral valve is sure, the balloon is fully inflated to produce splitting of the fused commissures and release of the mitral valve obstruction. During full inflation the arterial pressure drops to zero and if the inflation is prolonged, the subject may feel giddiness.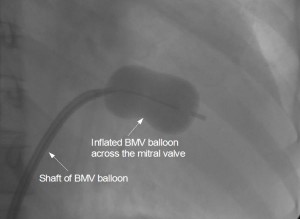 After full inflation of the balloon, once the commissures have given way, the inflated balloon usually slips back into the left atrium. The balloon is rapidly deflated to avoid prolonged obstruction to the LV inflow. The stillet is removed and the left atrial pressure checked to see the effectiveness of the dilatation in terms of reduction of left atrial pressure. The pigtail catheter from the aorta which was used to guide the septal puncture can be introduced back into the left ventricle to measure the left ventricular diastolic pressure and thus calculate the transmitral gradient. Elevation of the left ventricular end diastolic pressure or undue prominence of left atrial v wave must make one suspect significant mitral regurgitation following mitral valvotomy.