Colour Doppler Echo – Quiz – Discussion
|
Colour Doppler Echo – Quiz – Discussion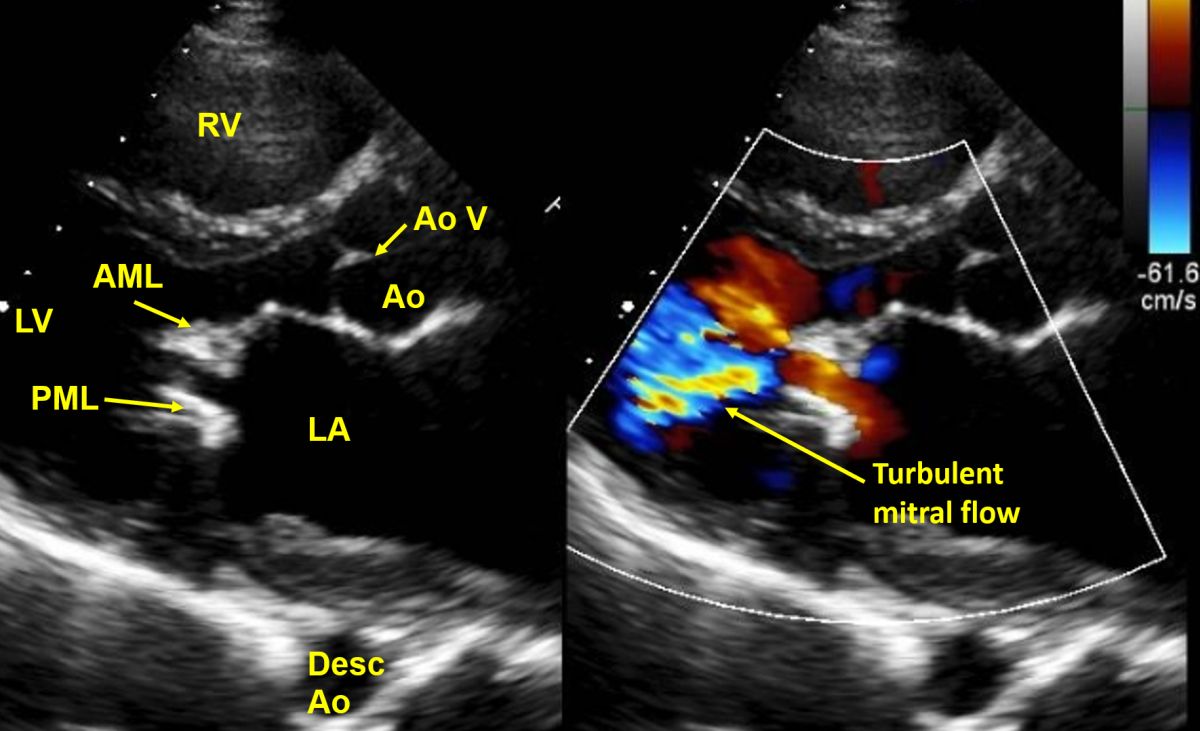 RV: Right ventricle, LV: Left ventricle, IVS: Interventricular septum, PML: Posterior mitral leaflet, AML: Anterior mitral leaflet, AoV: Aortic valve, Ao: Aorta, Desc Ao: Descending aorta.
Dilated left atrium is seen posterior to the aorta and anterior to the descending aorta. Thickened anterior and posterior mitral leaflets open partially into the left ventricle. The turbulent multicolored jet from the left atrium to left ventricle across the stenotic mitral valve is seen in the right frame.
Anterior mitral leaflet is thickened, with calcification at the tip and has a hockey stick appearance in diastole. Posterior mitral leaflet is thickened and calcified. It has moved anteriorly in diastole instead of the usual posterior opening movement. This paradoxical anterior movement of the posterior mitral leaflet is because of commissural fusion. Due to commissural fusion, anterior leaflet pulls the posterior leaflet along with it during the opening movement.
Aortic valve is morphologically normal and is seen in the closed position in this diastolic frame. The two aortic cusps seen in this view are the non coronary cusp in anterior position and left coronary cusp in the posterior position. Right coronary cusp is not imaged in this view.
Aliasing velocity of the colour Doppler system is seen in the colour bar in the top right corner as 61.6 cm/s.
This image is of rheumatic mitral stenosis and is quite different from the mitral stenosis in elderly due to mitral annular calcification.