Mitral Doppler tracing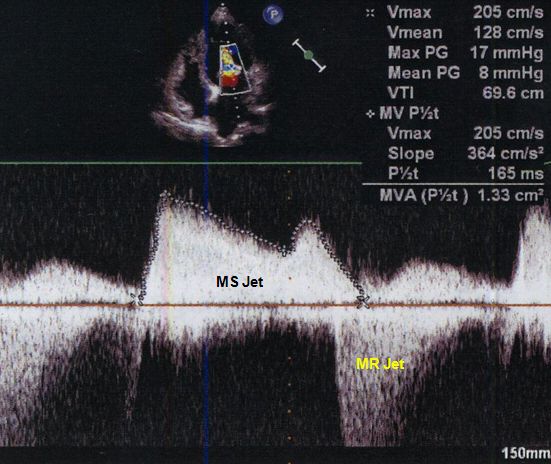 The upward jet with an M shape is the diastolic jet of mitral stenosis (MS). The initial peak is the E wave of early diastole and later peak is the A wave of atrial systole. In mitral stenosis, there is no gap between the two as the pressure gradient is never zero, meaning that there is no diastasis or equalization of atrial and ventricular diastolic pressures. The downward jet occurring in systole is due associated trivial mitral regurgitation. The MS jet is traced out manually to measure the peak and mean gradients. Pressure half time is calculated from the downward slope of the initial peak. A pressure half time of 220 msec corresponds to a mitral valve area of 1 square cm. 220 divided by the pressure half time gives the calculated mitral valve area by pressure half time method. In this case the pressure half time is measured as 165 msec and the calculated mitral valve area is 1.33 sq cm, indicating moderate mitral stenosis. The density of the mitral regurgitation (MR) jet gives an indication of the severity of the MR. Incomplete jets and less dense jets indicated milder variety while complete jets with density similar to that of the forward flow indicates severe MR.
Vmax: maximum velocity; V Mean: mean velocity; Max PG: maximum pressure gradient; Mean PG: mean pressure gradient; VTI: velocity time integral; MV P1/2t: mitral valve pressure half time – time taken for the pressure gradient to fall by half or the velocity to fall by root 2.