Mitral valve area by planimetry on echocardiogram
|
Mitral valve area by planimetry on echocardiogram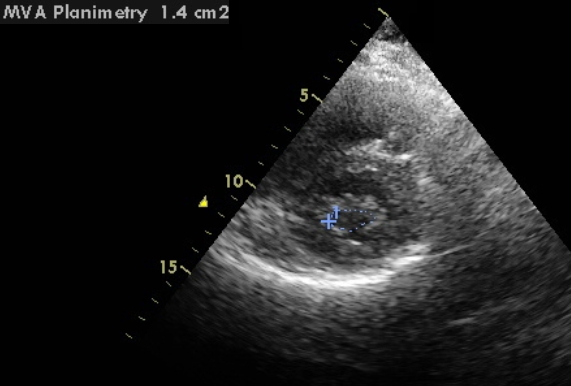 Mitral valve area by planimetry on echocardiogram is usually obtained from the parasternal short axis view. It can also be obtained from the basal transgastric short axis view by transesophageal echocardiography. After obtaining a good parasternal short axis image, the frozen cineloop is scrolled to get the image of mitral cross section as a full circle in diastole. While acquiring the image, smallest full circle of mitral cross section is obtained so as to avoid measuring more proximally along the belly of the mitral leaflets. The area circumference is traced out with the digital caliper of the echocardiograph and the machine displays the mitral valve area. The inner edge of the leaflets is traced in mid diastole [1]. Gain setting should be optimized as high gain settings can underestimate the valve area. Two dimensional valve area measured in this way gives in an overestimate compared to that measured by three dimensional (3D) echocardiography, especially in those with dilated left atrium. This is because better alignment at the tip of the mitral valve can be obtained by transesophageal 3D echo with excellent interobserver and intraobserver reproducibility [2]. 3D planimetry from the left ventricular is considered to be the most accurate method of measurement of mitral valve area [3].
Measurement of mitral valve area after balloon mitral valvotomy follows the same pattern. Measurement using real-time three dimensional echocardiography is superior to 2D planimetry of mitral valve area in the immediate post mitral balloon valvotomy period [4]. Real-time 3D echocardiographic valve area has the best correlation with invasively determined mitral valve area in this setting.
Other methods to assess the mitral valve area by echocardiography:
From the pressure half time of mitral flow by Doppler
By using continuity equation and velocity time integral mitral and aortic flow along with diameter of the left ventricular outflow tract
From the proximal isovelocity surface area (PISA) of the diastolic mitral flow convergence zone on the left atrial side by color Doppler
In mitral stenosis, mitral valve area above 1.5 sq. cm. is taken as mild mitral stenosis, 1.0-1.5 sq. cm. as moderate mitral stenosis and mitral valve area below 1 sq. cm. as severe mitral stenosis [5].
References
Wunderlich NC, Beigel R, Siegel RJ. Management of mitral stenosis using 2D and 3D echo-Doppler imaging. JACC Cardiovasc Imaging. 2013 Nov;6(11):1191-205.
Min SY, Song JM, Kim YJ, Park HK, Seo MO, Lee MS, Kim DH, Kang DH, Song JK. Discrepancy between mitral valve areas measured by two-dimensional planimetry and three-dimensional transoesophageal echocardiography in patients with mitral stenosis. Heart. 2013 Feb;99(4):253-8.
Sugeng L, Weinert L, Lammertin G, Thomas P, Spencer KT, Decara JM, Mor-Avi V, Huo D, Feldman T, Lang RM. Accuracy of mitral valve area measurements using transthoracic rapid freehand 3-dimensional scanning: comparison with noninvasive and invasive methods. J Am Soc Echocardiogr. 2003 Dec;16(12):1292-300.
Zamorano J, Perez de Isla L, Sugeng L, Cordeiro P, Rodrigo JL, Almeria C, Weinert L, Feldman T, Macaya C, Lang RM, Hernandez Antolin R. Non-invasive assessment of mitral valve area during percutaneous balloon mitral valvuloplasty: role of real-time 3D echocardiography. Eur Heart J. 2004 Dec;25(23):2086-91.
Baumgartner H, Hung J, Bermejo J, Chambers JB, Evangelista A, Griffin BP, Iung B, Otto CM, Pellikka PA, Quinones M; EAE/ASE. Echocardiographic assessment of valve stenosis: EAE/ASE recommendations for clinical practice. Eur J Echocardiogr. 2009 Jan;10(1):1-25.