Percutaneous Mitral Valve Repair
|
Percutaneous Mitral Valve Repair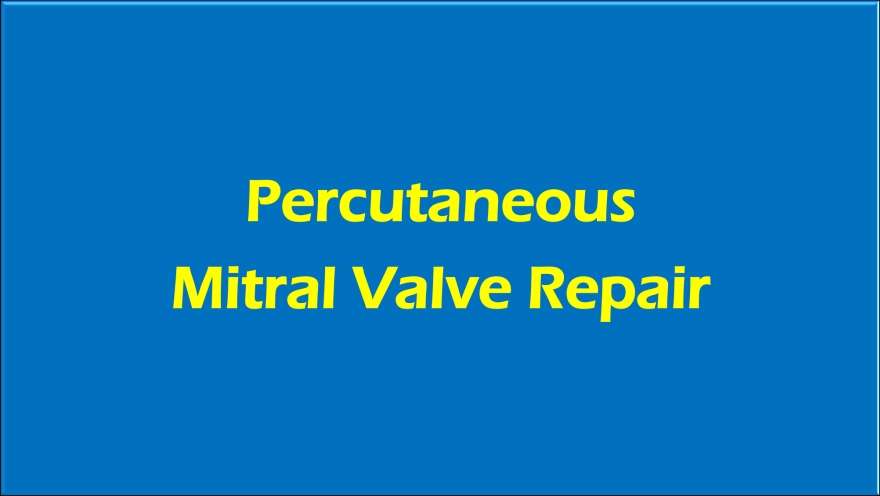 Mitral regurgitation is the commonest valvular lesion, due to aging of the population at large and degenerative valvular heart disease overtaking rheumatic heart disease. Standard treatment for symptomatic severe mitral regurgitation and asymptomatic severe mitral regurgitation with left ventricular dysfunction is surgical treatment. Among surgical treatments available, mitral valve repair has lesser morbidity than replacement if the valve is amenable for repair.
Surgical treatment has to be deferred very often in this elderly population with multiple comorbidities [1]. Hence the role of percutaneous mitral valve repair is catching up. Percutaneous mitral valve repair has recently found role even in functional mitral regurgitation secondary to left ventricular dysfunction and dilatation.
Over the past few years, a significant clinical experience has been developed for the edge-to-edge clip technique by the MitraClip system (Abbott Laboratories, IL) for percutaneous mitral valve repair.
EVEREST (Endovascular Valve Edge-to-Edge Repair Study) II study [2] was a randomized trial which compared MitraClip vs conventional surgery for degenerative mitral regurgitation. One year result of EVEREST II showed that mitral valve edge-to-edge repair was less effective than surgery for reducing mitral regurgitation, but had superior safety and similar improvements in clinical outcome. Major adverse events in percutaneous repair group was 15% while it was 48% in the surgical group, at 30 days (P<0.001). Death rate was 6% in both groups.
5-Year Results of EVEREST II showed that even though surgery for residual mitral regurgitation was more often in percutaneous repair at one year, the need for surgery between one to five years was comparable in the two groups [3].
The MitraClip grasps the mitral leaflet edges and reduces the regurgitation volume and the preload of the left ventricle. In the long run, it reverses adverse left ventricular remodeling and improves clinical outcome. But the results may be poor in those who have long standing left ventricular volume overload due to severe mitral regurgitation. These persons may have irreversible left ventricular dysfunction and poor prognosis [4].
References
Mirabel M, Iung B, Baron G, Messika-Zeitoun D, Détaint D, Vanoverschelde JL, Butchart EG, Ravaud P, Vahanian A. What are the characteristics of patients with severe, symptomatic, mitral regurgitation who are denied surgery? Eur Heart J. 2007; 28:1358–1365.
Feldman T, Foster E, Glower DD, Glower DG, Kar S, Rinaldi MJ, Fail PS, Smalling RW, Siegel R, Rose GA, Engeron E, Loghin C, Trento A, Skipper ER, Fudge T, Letsou GV, Massaro JM, Mauri L; EVEREST II Investigators. Percutaneous repair or surgery for mitral regurgitation. N Engl J Med. 2011; 364:1395–1406.
Feldman T, Kar S, Elmariah S, Smart SC, Trento A, Siegel RJ, Apruzzese P, Fail P, Rinaldi MJ, Smalling RW, Hermiller JB, Heimansohn D, Gray WA, Grayburn PA, Mack MJ, Lim DS, Ailawadi G, Herrmann HC, Acker MA, Silvestry FE, Foster E, Wang A, Glower DD, Mauri L; EVEREST II Investigators. Randomized Comparison of Percutaneous Repair and Surgery for Mitral Regurgitation: 5-Year Results of EVEREST II. J Am Coll Cardiol. 2015 Dec 29;66(25):2844-2854.
Nishimura RA, Otto CM, Bonow RO, Carabello BA, Erwin JP, 3rd, Fleisher LA, Jneid H, Mack MJ, McLeod CJ, O'Gara PT, Rigolin VH, Sundt TM, 3rd, Thompson A. 2017 AHA/ACC Focused Update of the 2014 AHA/ACC Guideline for the Management of Patients With Valvular Heart Disease: A Report of the American College of Cardiology/American Heart Association Task Force on Clinical Practice Guidelines. Circulation 2017; 135:e1159-e1195.