Totally endoscopic coronary artery bypass grafting (TECAB)
|
Totally endoscopic coronary artery bypass grafting (TECAB)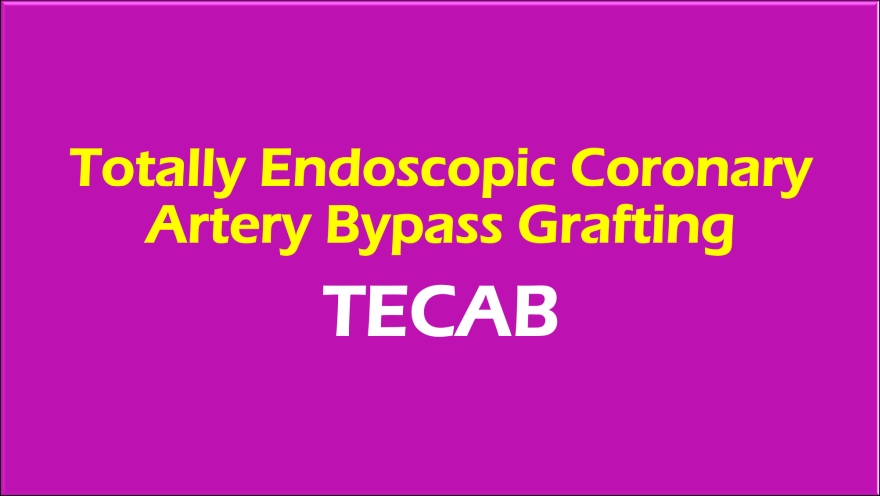 Totally endoscopic coronary artery bypass grafting (TECAB) is done with precision using robotic surgery equipment [1]. Unlike conventional coronary artery bypass grafting (CABG) which is done through a midline sternotomy, TECAB is done through four to five small ports with the help of the da Vinci Surgical System. The da Vinci robotic system is a highly advanced tool which helps the surgeon sitting in the equipment console to control the robotic surgery arms. Tiny video cameras attached to robotic arm give a detailed three dimensional view of the operating field inside the thoracic cavity. Robotic endostabilizer is available for beating heart surgeries. Multivessel procedures can be done as well as total arterial revascularization using both left and right internal mammary arteries. Sequential grafting and Y grafting are also technically feasible. Radial artery and vein grafts can be inserted using TECAB. But multivessel procedures are time consuming and may get conventional large incision CABG [2].
Reference
Bonatti J, Vento A, Bonaros N, Traina M, Lehr E. Robotic totally endoscopic coronary artery bypass grafting (TECAB)-placement of bilateral internal mammary arteries to the left ventricle. Ann Cardiothorac Surg. 2016 Nov;5(6):589-592.
Bonatti J, Lee JD, Bonaros N, Schachner T, Lehr EJ. Robotic totally endoscopic multivessel coronary artery bypass grafting: procedure development, challenges, results. Innovations (Phila). 2012 Jan-Feb;7(1):3-8.