Device closure of patent ductus arteriosus (PDA)
|
Device closure of patent ductus arteriosus (PDA)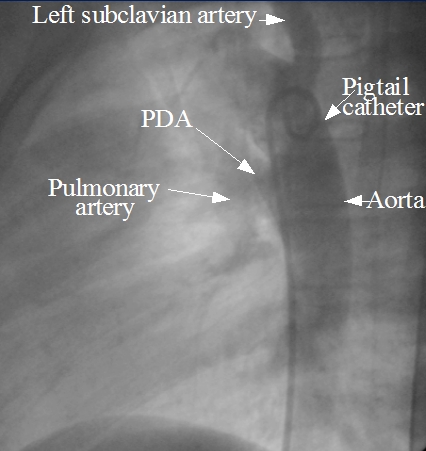 Though small PDAs can be closed by coils, large PDAs require a device to close them. Initially an angiogram (descending aortogram) is taken to confirm the size of the PDA to choose the size of the device. The angiogram above shows pigtail catheter in the descending aorta and the contrast passing from the descending aorta to pulmonary artery through the PDA. The PDA is superimposed on the tracheal air column in this view.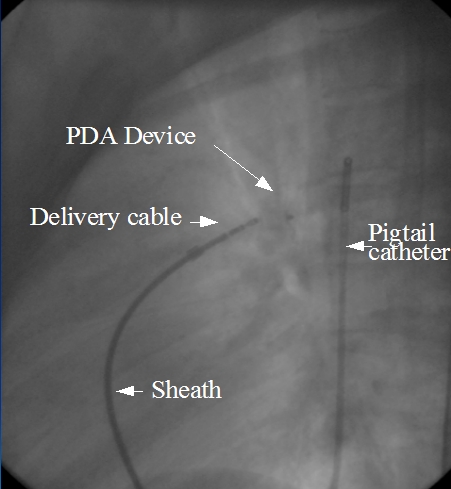 A guide wire is introduced into the femoral vein and guide through inferior vena cava into right atrium. From right atrium it is passed into the pulmonary artery through the right ventricle. From the pulmonary artery, the guidewire is passed into the descending aorta across the PDA. A long sheath is threaded over the guide wire. Then the PDA device is loaded under water and introduced into the sheath. Underwater loading is needed to avoid air bubbles being trapped in the system and subsequent air embolism. The device is pushed out of the sheath in the aorta and the assembly is withdrawn so that the device is deployed in the PDA.
Once the position of the device is fine, and the shunt obliterated, the delivery cable is unscrewed and the device released. Delivery cable and sheath are withdrawn, as well as the pigtail. Hemostasis is achieved by compression over the puncture site. Follow up echocardiograms are obtained to document the absence of residual flow.
Occasionally the PDA device can get dislodged into the aorta requiring snaring out of the device. In some situations, the device has been retrieved by using the delivery cable itself and screwing it in position to the device followed by retrieval into the sheath. It is rather challenging to screw it back when the device is in a floating position in a distal vessel.
Proper device sizing is important in preventing residual shunts after device delivery. Small residual shunts with a high velocity jet can cause hemolysis resulting in anemia, hemoglobinuria and in rare cases acute kidney injury.