Dominant left coronary artery
|
Dominant left coronary artery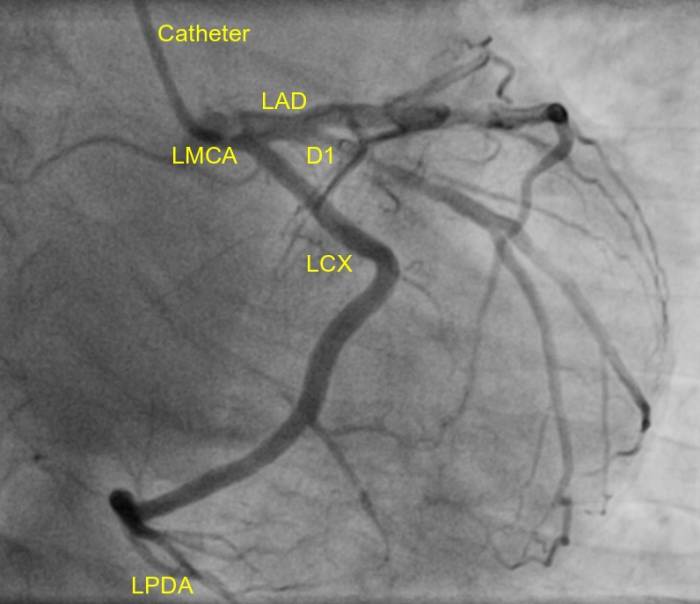 Left coronary angiogram, showing dominant left circumflex with left posterior descending artery arising from it (LPDA). Catheter: Diagnostic coronary catheter through transradial route in left main coronary artery (LMCA). LAD: left anterior descending coronary artery. D1: first diagonal branch of LAD. LCX: left circumflex coronary artery.
Dominant left circumflex coronary artery
If the left circumflex coronary artery crosses the crux of the heart (junction of interventricular and interatrial grooves posteriorly) to the opposite side, it is known as the dominant artery. When left circumflex is dominant, we call it as the left dominant system (dominant left coronary artery). It may be noted that regardless of whether it is a right dominant or left dominant anatomy, it is always the left coronary artery which supplies the major portion of the myocardium as it always supplies a major portion of the left ventricular myocardium which is the dominant ventricle in the adult.
Frequency of left dominant coronary circulation
In a study by Murphy ES et al, among the control group of one hundred and fifty individuals, nine percent (14 persons) had left dominant coronary system, twelve percent (18 persons) had a balanced system (co-dominant) and seventy nine percent (118 persons) had a right dominant coronary system.1
Clinical significance of left dominant system
Balci B and colleagues checked whether coronary dominance has any relation with atherosclerotic coronary artery disease.2 They compared thirty eight consecutive left dominant coronary angiograms with four hundred and fifty nine consecutive right dominant coronary angiograms in a retrospective analysis. They concluded that the extent of coronary atherosclerosis had no relation with coronary dominance. But in the TWENTE trial involving about one thousand and four hundred patients, there was a higher incidence of periprocedural myocardial infarction in those with dominant left coronary artery undergoing percutaneous coronary intervention.3
References
Murphy ES, Rosch J, Rahimtoola SH. Frequency and significance of coronary arterial dominance in isolated aortic stenosis. Am J Cardiol. 1977 Apr;39(4):505-9.
Balci B, Yilmaz O. Atherosclerotic involvement in patients with left or right dominant coronary circulation. Kardiol Pol. 2004 Jun;60(6):564-6.
Lam MK, Tandjung K, Sen H, Basalus MW, van Houwelingen KG, Stoel MG, Louwerenburg JW, Linssen GC, Said SA, Nienhuis MB, de Man FH, van der Palen J, von Birgelen C. Coronary artery dominance and the risk of adverse clinical events following percutaneous coronary intervention: insights from the prospective, randomised TWENTE trial. EuroIntervention. 2014 Feb 28. pii: 20130104-01. [Epub ahead of print]