Last Updated on
HNOCM with MR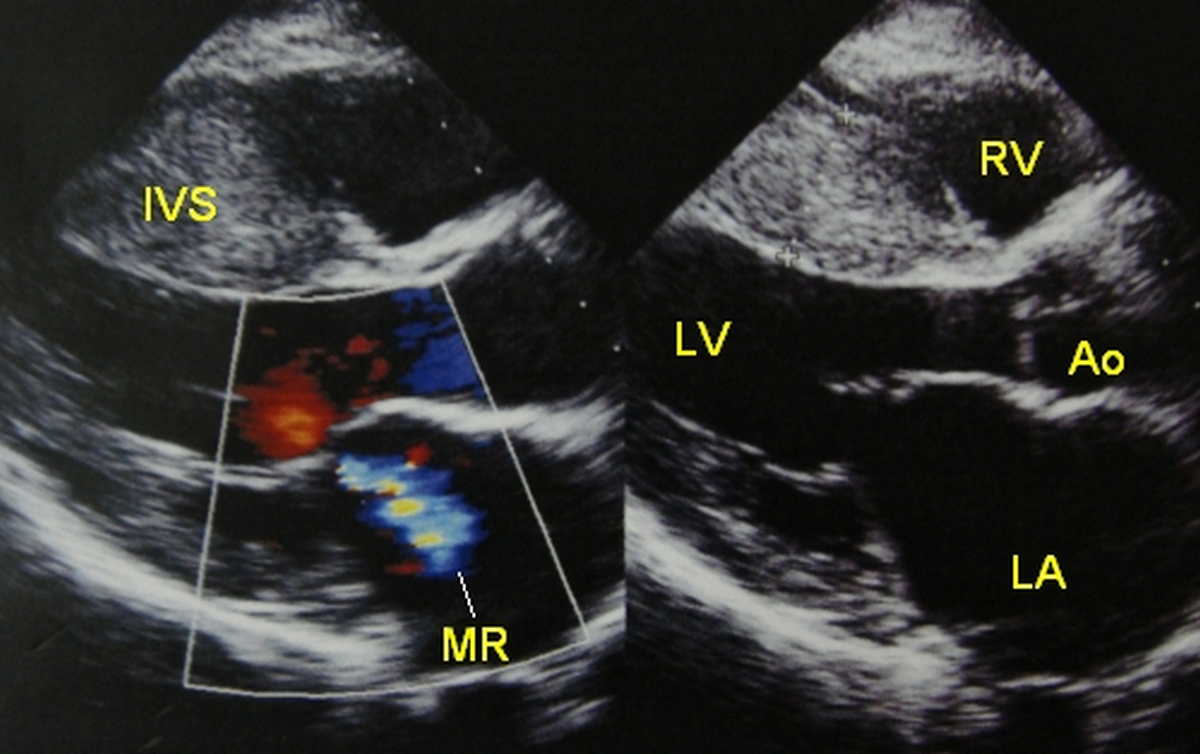 Colour Doppler echocardiogram from parasternal long axis (PLAX) view in hypertrophic nonobstructive cardiomyopathy (HNOCM) showing a grossly thickened interventricular septum (IVS). Posterior wall of the left ventricle does not show much hypertrophy. This type of hypertrophy is called asymmetric septal hypertrophy and is characteristic of hypertrophic cardiomyopathy. A bluish mosaic coloured jet of mitral regurgitation (MR) is seen in the left atrium (LA) during systole, when the mitral valve is closed. Please note that there is no narrowing of the left ventricular outflow  tract (LVOT) in systole. The flow in the LVOT is laminar, without any mosaic pattern. There is no systolic anterior movement (SAM) of the anterior mitral leaflet which is the important cause of LVOT obstruction in hypertrophic cardiomyopathy.
The frame on the right side is a diastolic frame with the mitral valve open. Left atrium (LA) is dilated,  twice the aortic (Ao) diameter or more. Right ventricle (RV) and left ventricle (LV) are not enlarged. Left ventricular cavity may enlarge in the late dilated phase of hypertrophic cardiomyopathy.
TDI (tissue Doppler imaging) in hypertrophic nonobstructive cardiomyopathy showing pattern suggestive of left ventricular diastolic dysfunction. A' (during atrial systole) is of higher amplitude than E' (early diastolic). Normally the E' wave is of higher amplitude than the A' wave. Upper panel shows the colour kinesis two dimensional image from the apical four chamber view which shows that TDI sampling is from the medial (septal) mitral annulus.