Intimal calcification in aortic knuckle – X-ray chest PA
|
Intimal calcification in aortic knuckle – X-ray chest PA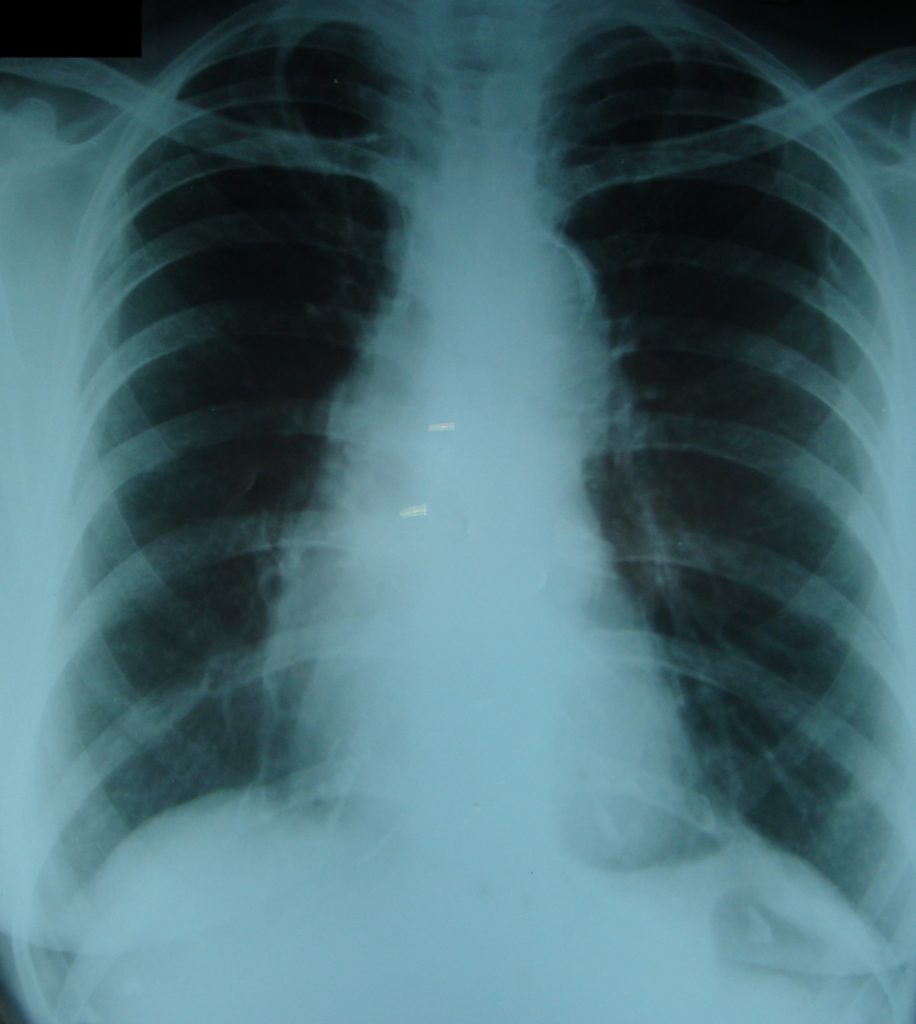 Calcification of the intima of aortic knuckle (arrow) is a common finding in the elderly. Usually it is of no significance. But a separation of the intimal calcification from the edge of the aortic knuckle shadow indicates a separation of the intima from the media as in aortic dissection. This has been called the "calcium sign" in aortic dissection. A separation of more than 1 cm is considered significant. A recent case report by Lin SH et al [1] demonstrates the calcium sign in aortic dissection.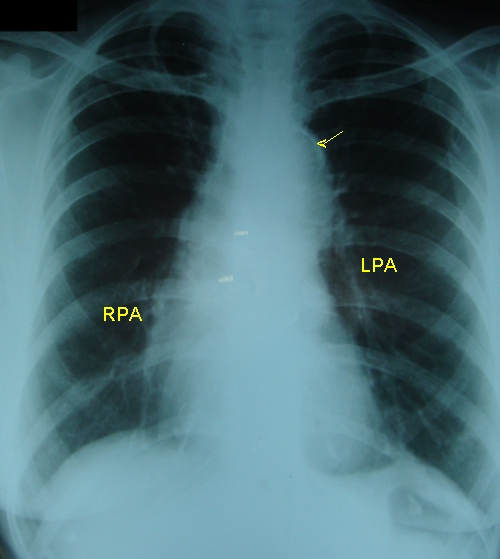 Arrow points to intimal calcification. LPA: left pulmonary artery; RPA: right pulmonary artery
Aortic Knuckle
Aortic knuckle, also known as aortic knob is the distal part of aortic arch which curves posteriorly and continues as the descending aorta. It appears like a lateral projection at the upper most part of the left border of cardiac silhouette. This description applies to the posteroanterior view of chest X-ray. Aortic knuckle is considered as the first mogul while describing the third mogul sign of enlargement of left atrial appendage. Main pulmonary artery being the second mogul.
A prominent aortic knuckle can occur due to unfolding of arch of aorta. Rarely it could be due to aortic arch aneurysm as well. Dilatation of the pre-stenotic segment in coarctation of aorta can also cause a prominent aortic knuckle on X-ray chest PA view [2].
Reference
Lin SH, Huang SH, Liao WH. The calcium sign of aortic arch dissection. BMJ Case Rep. 2013 Sep 30;2013. (Free Full Text at Pubmed Central).
Singh S, Hakim FA, Sharma A, Roy RR, Panse PM, Chandrasekaran K, Alegria JR, Mookadam F. Hypoplasia, pseudocoarctation and coarctation of the aorta – a systematic review. Heart Lung Circ. 2015 Feb;24(2):110-8.