Katz-Wachtel phenomenon / sign on ECG in VSD
|
Katz-Wachtel phenomenon / sign on ECG in VSD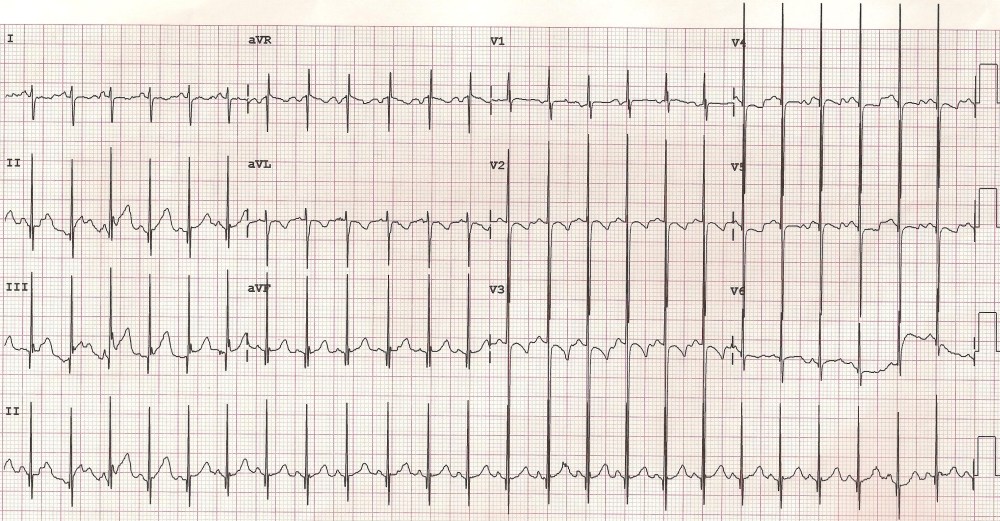 The Katz-Wachtel phenomenon / sign is tall diphasic RS complexes at least 50 mm in height in lead V2, V3 or V4 – mid precordial leads [1] The original description by Katz and Wachtel was published in 1937 [2]. The sign has been described in ventricular septal defect with biventricular hypertrophy in children. It can be seen with isolated ventricular septal defect as well as complex ventricular septal defect. In fact the Circulation article cited is on Complete Transposition of the Great Vessels: II. An Electrocardiographic Analysis by Elliott LP et al [1].
Since the QRS amplitude is high it often overshoots the margin of the ECG graph as seen in lead V4 in this case. It may be necessary to take ECG in half standardization (5 mm to a millivolt instead of 10 mm to a millivolt) to capture the full QRS complex without overlapping with other leads.
Large anterior electrocardiographic forces are due to the hypertrophied right ventricle and late posterior forces due to the hypertrophied left ventricle [3].
In addition, the ECG shows negative QRS complexes in I and aVL, indicating right axis deviation, which is a feature of right ventricular hypertrophy.
Katz-Wachtel phenomenon has been reported in a case of unrepaired tetralogy of Fallot with hemitruncus in an adult as well [4]. There was anomalous origin of right pulmonary artery from ascending aorta known as right hemitruncus.
References