Measurement of aorto-mitral angle by echo
|
Measurement of aorto-mitral angle by echo
Aorto-mitral angle can be measured in the parasternal long axis view by trans thoracic echocardiography [1]. It can also be measured by trans esophageal echocardiography [2]. Aorto-mitral angle is useful in predicting the possibility of systolic anterior motion of mitral valve after mitral valve repair. A narrow aorto-mitral angle of less than 120 degrees is one of the predictors of SAM after mitral valve repair.
The picture demonstrates the measurement of aorto-mitral angle in parasternal long axis view.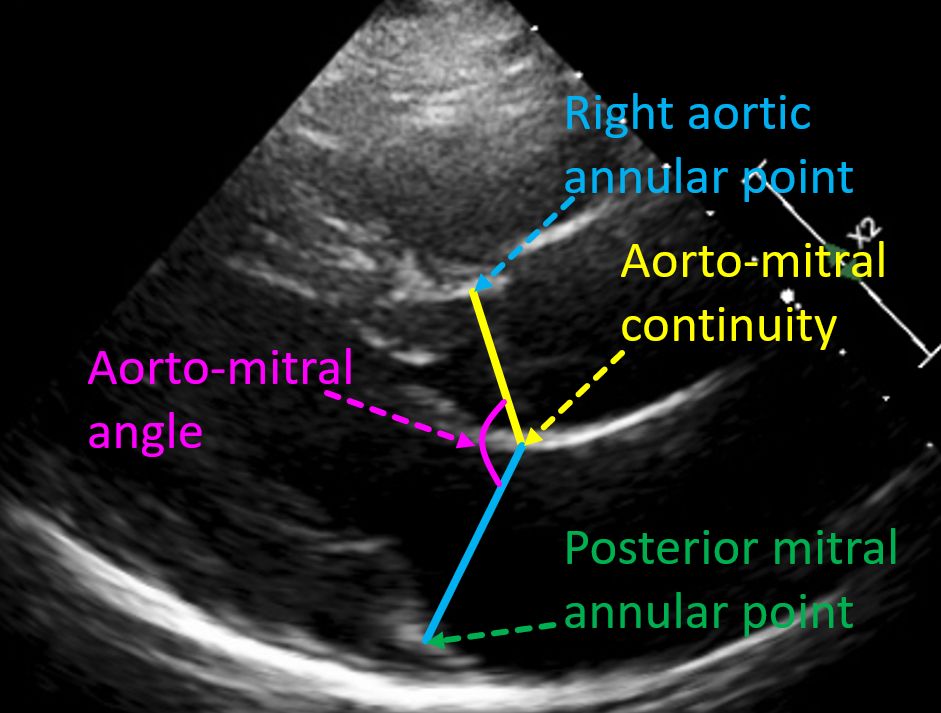 A diastolic frame in which the mitral valve is fully open and aortic valve fully closed has been used for illustration. Aorto-mitral continuity can be seen well when the aortic valve is closed, though in this image, the faint aortic valve image has been overlapped by the yellow line used for illustration of aortic annular plane. Blue line illustrates the mitral annular plane. Aorto-mitral angle is the angle between these two planes.
Aorto-mitral angle can also be measured in the apical three chamber view as well as by 3-D echocardiography. Measurement of aorto-mitral angle is also used while planning transcatheter mitral valve implantation as part of evaluation of the geometry of mitral valve annulus [3].
References
Bai W, Li H, Tang H, Zhang Q, Zhu Y, Rao L. Assessment of aortic and mitral annuli dynamics during the cardiac cycle using speckle tracking echocardiography. Echo Res Pract. 2014 Sep 1;1(1):11-6. doi: 10.1530/ERP-14-0019. Epub 2014 May 29. PMID: 26693287; PMCID: PMC4676444.
Aruta P, Muraru D, Guta AC, Mihaila S, Ruozi N, Palermo C, Elnagar B, Iliceto S, Badano LP. Comparison of mitral annulus geometry between patients with ischemic and non-ischemic functional mitral regurgitation: implications for transcatheter mitral valve implantation. Cardiovasc Ultrasound. 2018 Oct 12;16(1):27. doi: 10.1186/s12947-018-0145-8. PMID: 30314517; PMCID: PMC6186037.