Prosthetic TTK Chitra aortic valve on chest X-ray
|
Prosthetic TTK Chitra aortic valve on chest X-ray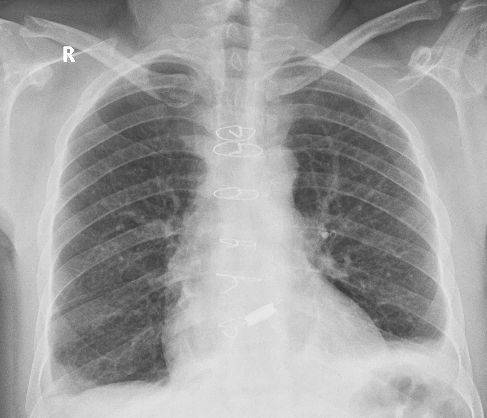 X-ray chest PA view showing a prosthetic aortic valve within the lower portion of the cardiac silhouette overlapping the spine. Multiple sternal suture wires are also seen on this chest X-ray. There is mild obliteration of costophrenic angles suggesting minimal pleural effusion. Only the cobalt based alloy cage of the prosthetic valve is seen on this chest X-ray. It is a tilting disc valve with non radio-opaque disc made of polyethylene. Hence the disc cannot be seen on the X-ray image. Left dome of diaphragm is slightly elevated compared to the right, though normally the right dome is at a higher level than the left.
This X-Ray image is that of a TTK Chitra heart valve. Several studies have been published on the use of this valve [1,2,3]. Ten year outcomes have been published by Muralidharan S and colleagues in 2011 [4].
References
Nagarajan M, Muralidharan S, Chandrasekar P. The TTK Chitra heart valve-a single center experience with mid term results. Indian J Thorac Cardiovasc Surg. 2000;16:85-9.
Sankarkumar R, Bhuvaneshwar GS, Magotra R, Muralidharan S, Rajan RS, Saha D, Subba Rao KS, Valiathan MS, Radhakrishna S, Ramani AV. Chitra heart valve: results of a multicenter clinical study. J Heart Valve Dis. 2001 Sep;10(5):619-27.
Kumar P, Dalvi B, Chikkatur R, Kandhachar P, Parida R, Ahuja V, Jadhav UE, Tendolkar A. TTK Chitra tilting disc valve: hemodynamic evaluation. Indian J Thorac Cardiovasc Surg. 2004;20:117-21.
Muralidharan S, Muthubaskeran V, Chandrasekar P. Ten years outcome of Chitra heart valves. Indian J Thorac Cardiovasc Surg. 2011; 27:24-27.