Ross procedure in adults
|
Ross procedure in adults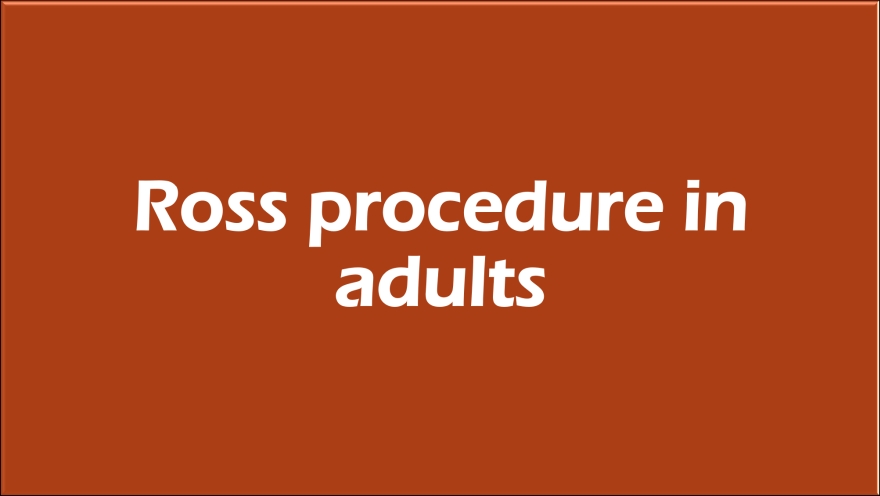 Ross procedure (pulmonary autograft for aortic position) was used for aortic valve disease initially in children and later in adults. The pulmonary valve along with part of the main pulmonary artery is taken and made into a neo-aortic root. Either a cryopreserved homograft or xenograft is placed in the pulmonary position. Sometimes a polytetrafluoroethylene (PTFE) conduit is used in the pulmonary position. The advantage of the autograft in children is that it would grow in size as the child grows, unlike a prosthetic valve. A recent study has reported 90.7% ten year survival after Ross procedure in adults [1].
Dilated aortic root can lead to aortic regurgitation in some cases. Aortic dissection 16 years after Ross procedure has been reported [2]. In this case it was successfully repaired. Authors mention that it is more likely to occur in individuals who had bicuspid aortic valve as they may have associated connective tissue abnormalities predisposing to aortic dissection.
Xenografts are more likely to fail than cryopreserved homografts in the pulmonary position. Christ T et al [3] noted that freedom from pulmonary valve reoperation at 15 years was 100% with homografts while it was 78.9 ± 9.4% with stentless xenografts. Freedom from aortic valve reoperation at 15 years was similar in both groups, at around 85%. But the availability of homografts is often limited in most centers.
A comparison of Ross procedure with mechanical aortic valve replacement in young and middle aged adults showed that long term survival and freedom from reintervention was similar in both groups [4]. But long term freedom from stroke or major bleeding episodes was better after Ross procedure.
References
Karaskov A, Sharifulin R, Zheleznev S, Demin I, Lenko E, Bogachev-Prokophiev A. Results of the Ross procedure in adults: a single-centre experience of 741 operations. Eur J Cardiothorac Surg. 2016 May;49(5):e97-e104.
Myers MR, Magruder JT, Crawford TC, Grimm JC, Halushka MK, Baumgartner WA, Cameron DE. Surgical repair of aortic dissection 16 years post-Ross procedure. J Surg Case Rep. 2016 May 2;2016(4).
Christ T, Claus B, Woythal N, Dushe S, Falk V, Grubitzsch H. The Ross Procedure in Adults: Long-Term Results of Homografts and Stentless Xenografts for Pulmonary Valve Replacement. Thorac Cardiovasc Surg. 2017 Dec;65(8):656-661.
Mazine A et al. Long-Term Outcomes of the Ross Procedure versus Mechanical Aortic Valve Replacement: Propensity-Matched Cohort Study. Circulation. 2016 Aug 5. pii: CIRCULATIONAHA.116.022800. [Epub ahead of print]