SGLT2 inhibitors and GLP-1 receptor agonists for diabetics with heart failure
|
Last Updated on
SGLT2 inhibitors and GLP-1 receptor agonists for diabetics with heart failure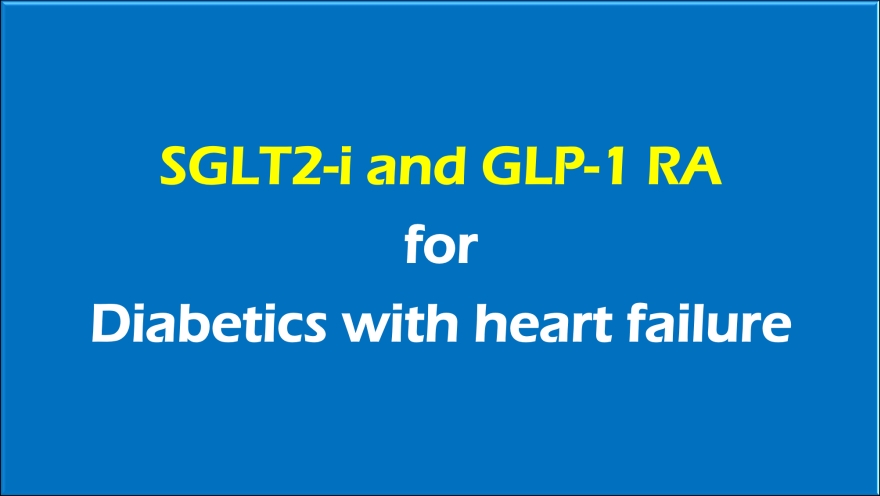 Sodium glucose cotransporter 2 inhibitors  (SGLT2-i) and glucagon-like peptide-1 receptor agonists (GLP-1 RA) are two new promising classes of anti diabetic medications which can reduce hospitalizations for heart failure. American Diabetes Association and the European Association for the Study of Diabetes consensus report published in 2018 endorses this view [1]. The statement mentions that those with heart failure should preferably be treated with SGLT-is and if this is not feasible either due to intolerance or inadequate estimated glomerular filtration rate, GLP-1 RA should be used.
It may be noted that published data on heart failure prevention from large cardiovascular outcome trials in diabetics is more in favour of SGLT2-i than GLP-1 RA. Hence the priority given for SGLT2-i over GLP-1 RA.
References
Davies MJ, D'Alessio DA, Fradkin J, Kernan WN, Mathieu C, Mingrone G, Rossing P, Tsapas A, Wexler DJ, Buse JB. Management of hyperglycemia in type 2 diabetes, 2018. A consensus report by the American Diabetes Association (ADA) and the European Association for the Study of Diabetes (EASD).Diabetes Care. 2018; 41:2669–2701.