Supersaturated oxygen reduces infarct size in anterior wall infarction
|
Supersaturated oxygen reduces infarct size in anterior wall infarction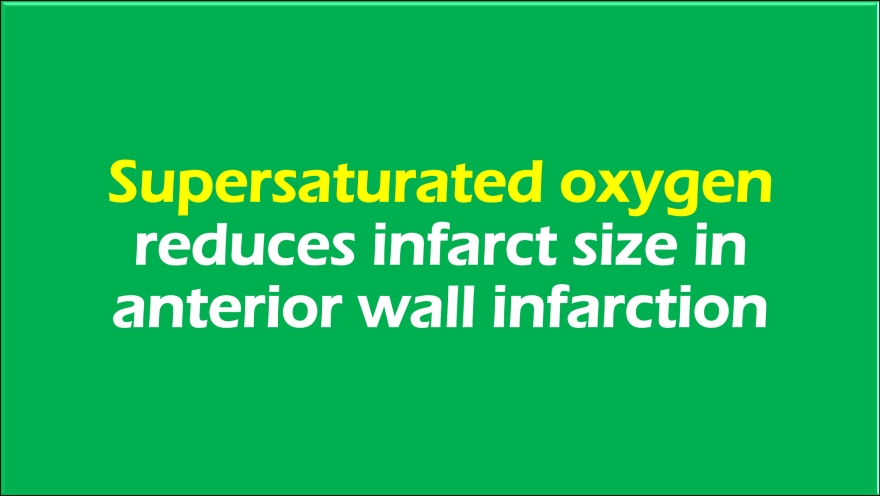 United States Food and Drug Administration (US FDA) has approved SuperSaturated Oxygen (SSO2) Therapy for reducing infarct size in left anterior descending coronary artery territory ST elevation myocardial infarction (STEMI) within 6 hours of onset, after percutaneous coronary intervention. 
How is supersaturated oxygen delivered?
Supersaturated oxygen is delivered using an extracorporeal circuit (TherOx, Inc, Irvine, Calif). Blood is withdrawn from the sidearm of the femoral sheath which is chosen to be 2F larger than the PCI guide or from a 5F sheath in the opposite femoral artery. The blood is oxygenated in a polycarbonate chamber to achieve a PO2 of 760 to 1000 mm Hg. The blood supersaturated with oxygen is then infused at 75 mL/min for 90 minutes (AMIHOT II protocol [1]) through an intracoronary infusion catheter placed in the infarct related artery proximal to the stent. The guide catheter in left main is disengaged during the infusion. 4.6F MI-Cath infusion catheter (TherOx, Inc) required a 6F guide catheter and 8F sheath. Patient could be either retained in cath lab or shifted to coronary ICU. PaO2 was checked every 30 minutes and supplemental nasal oxygen given if needed, to maintain PaO2 of 80 mm Hg or more. Activated clotting time was checked every 30 minutes and kept at 250 seconds or above with supplemental doses of heparin during active infusion.
In the IC-HOT trial, SSO2 therapy was delivered for 60 minutes [2] in 100 patients. They could successfully deliver SSO2 therapy in 98% of cases. Net adverse clinical events (NACE) (death, reinfarction, clinically driven target vessel revascularization, stent thrombosis, severe heart failure, or TIMI major/minor bleeding) at 30 days was 7.1%. There were no deaths at 30 days while there was one stent thrombosis and one case of severe heart failure.
AMIHOT II and IC-HOT trials have shown SSO2 therapy to be safe and effective. There was 26% median reduction in infarct size compared to PCI and stenting alone in the AMIHOT II trial. Those who presented within 6 hours of onset of myocardial infarction were selected.
Reference
Stone GW, Martin JL, de Boer MJ, Margheri M, Bramucci E, Blankenship JC, Metzger DC, Gibbons RJ, Lindsay BS, Weiner BH, Lansky AJ, Krucoff MW, Fahy M, Boscardin WJ; AMIHOT-II Trial Investigators. Effect of supersaturated oxygen delivery on infarct size after percutaneous coronary intervention in acute myocardial infarction. Circ Cardiovasc Interv. 2009 Oct;2(5):366-75.
David SW, Khan ZA, Patel NC, Metzger DC, Wood FO, Wasserman HS, Lotfi AS, Hanson ID, Dixon SR, LaLonde TA, Généreux P, Ozan MO, Maehara A, Stone GW. Evaluation of intracoronary hyperoxemic oxygen therapy in acute anterior myocardial infarction: The IC-HOT study. Catheter Cardiovasc Interv. 2018 Sep 28. doi: 10.1002/ccd.27905. [Epub ahead of print]