Tilting disc mitral prosthetic valve on X-ray chest PA view
|
Last Updated on
Tilting disc mitral prosthetic valve on X-ray chest PA view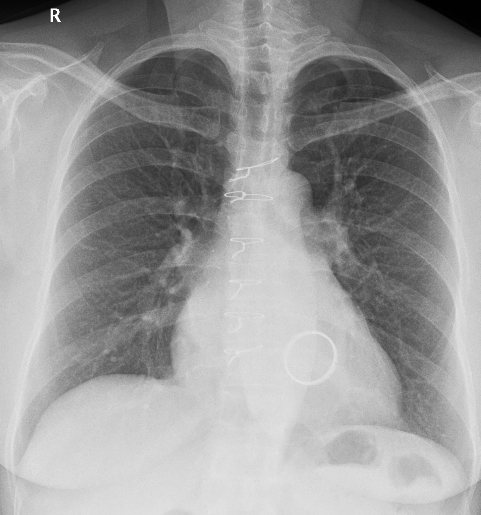 Tilting disc mitral prosthetic valve – the prosthetic valve suture ring is seen as a circular shadow within the cardiac silhouette. The tilting disc made of pyrolytic carbon is not visible as it is not radiopaque. Pyrolytic carbon is made by heating a hydrocarbon permitting the graphite to crystallise. The process is known as pyrolysis.
In addition to the valve ring, sternal suture wires are seen along the midline, indicating the previous sternotomy which was done to implant the prosthetic mitral valve.
From the X-ray, differentiation between mitral and other prosthetic valves is basically by the location in the usual location of the mitral valve. But this way of identification works out well only if the cardiac anatomy is not distorted by gross enlargement of the chambers. In this case as there is no significant cardiomegaly, we can presume that the valves and chambers in will be their normal anatomical positions.
Upper lobe vessels are a bit prominent, especially in the left upper zone, resembling an antler sign. Otherwise the lung fields are clear.