Aortic flow velocity by Doppler echo
|
Aortic flow velocity by Doppler echo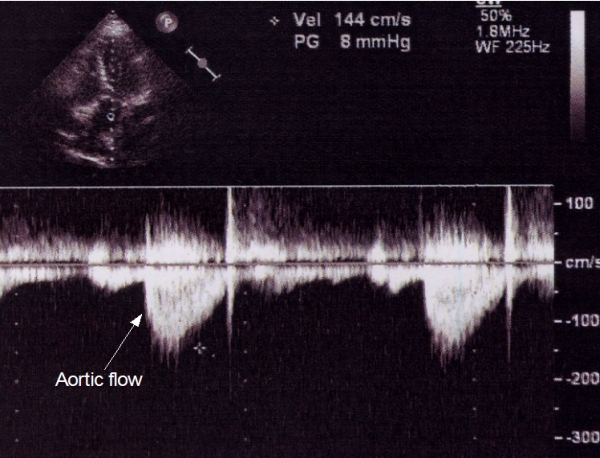 Aortic flow is estimated by placing the Doppler cursor just beyond the aortic valve in the apical five chamber view. If the velocity is high as in aortic stenosis, continuous wave (CW) Doppler has to used to avoid aliasing. The gradient is calculated from the velocity (V) using the Modified Bernoulli equation: Gradient = 4 V2.
The calculation is automatically done by the machine software. A good estimate requires that the cursor and the jet has a parallel alignment. Angle correction can be applied using built in software in most echocardiographic machines if proper alignment is not possible. But the errors will be high if the mal-alignment is more than 20 degrees. Normal aortic velocity is around 1 m/s. Usually aortic flow is measured from the apical four chamber view. It can also be measured from the suprasternal view.
Another measurement which can be taken from this same tracing is the velocity time integral (VTI). VTI is measured by tracing the outline of the aortic systolic flow envelope. Area of the envelope will correspond to the VTI and it is calculated automatically and displayed by the computer algorithm of the echocardiograph. VTI will correspond to the stroke volume ejected in each cycle. Product of the cross sectional area of the aortic valve and the VTI will correspond to the forward stroke volume. VTI is used in the calculation of valve area by the continuity equation.
Ads from Amazon