M-mode echocardiogram of aorta and left atrium
|
Last Updated on
M-mode echocardiogram of aorta and left atrium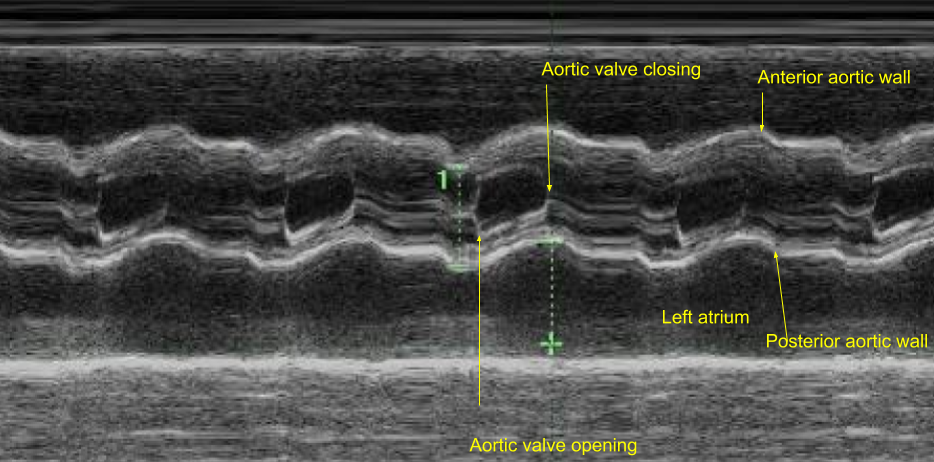 M-mode echocardiogram at aorta-left atrium level showing the movements of aortic walls (anterior and posterior) and aortic valve opening and closing movements. Measurement of left atrium is taken in systole while that of aorta is taken in diastole. The open position of the aortic valve has the shape of parallelogram while the close position appears as two parallel lines representing the movements of right coronary cusp (anterior) and the non coronary cusp (posterior). It can be seen that left atrial dimension is more in systole than in diastole due to the movement of the aorta. In the fully open position of the aortic valve, the separation of the two leaflets gives an indication of the cardiac output. Poor opening excursion will indicate a low cardiac output. Excursion of the aortic walls also give an indication of the cardiac output. Thickened leaflets with poor opening excursion occurs in aortic stenosis.
Usually the aortic diameter and left atrium diameter are of similar magnitude so that when only one is abnormal, we get an idea of left atrial enlargement or aortic root dilatation at one glance. But this does not hold good when both diameters are altered.
M-mode measurement of aorta will be lower than 2D (two dimensional echocardiography) measurements made at the aortic sinuses of Valsalva. The measurements can be indexed to body surface area. An aortic diameter of 2.1 cm/m2 on 2D measurement at the sinuses of valsalva can be taken as the cutoff limit when looking aortic root dilatation in conditions like Marfan syndrome. This value has been shown to have a specificity of 98% [1].
Systolic fluttering of the aortic leaflets can be seen when there is subaortic obstruction which causes a jet to strike the aortic valve from below. In this situation the valve is pliable and moves well as it is not involved in the disease process. Systolic fluttering of the non coronary cusp along with that of the posterior aortic wall has been described as a sign of mitral regurgitation due to dysfunction of posterior mitral leaflet [2]. Presence of systolic fluttering of the aortic valve had been proposed as a screening test to exclude severe aortic stenosis. The reason given was that a thickened non pliable valve in severe aortic stenosis cannot flutter [3]. But this view has been contested by other authors [4].
Reference
Roman MJ, Devereux RB, Kramer-Fox R, O'Loughlin. Two-dimensional echocardiographic aortic root dimensions in normal children and adults. Am J Cardiol. 1989 Sep 1;64(8):507-12.
Abedin Z, Carbajal E, Cano P, Velez C. Systolic fluttering of the noncoronary cusp of the aortic valve and the posterior wall of the aortic root–a sign of mitral regurgitation due to dysfunction of the posterior leaflet of the mitral valve. Australas Radiol. 1985 Aug;29(3):226-31.
Chin ML, Bernstein RF, Child JS, Krivokapich J. Aortic valve systolic flutter as a screening test for severe aortic stenosis. Am J Cardiol. 1983 Mar 15;51(6):981-5.
Vacek JL, Phelix J, Rycyna JL. The inaccuracy of aortic valve systolic flutter as a screening test for significant aortic stenosis. Clin Cardiol. 1984 Apr;7(4):229-32.