Sokolow-Lyon criteria for left ventricular hypertrophy
|
Sokolow-Lyon criteria for left ventricular hypertrophy
Abstract: Sokolow-Lyon criteria for left ventricular hypertrophy: S wave in V1 + R wave in lead V5 or V6 > 3.5 mV or R wave in V5 or V6 > 2.6 mV.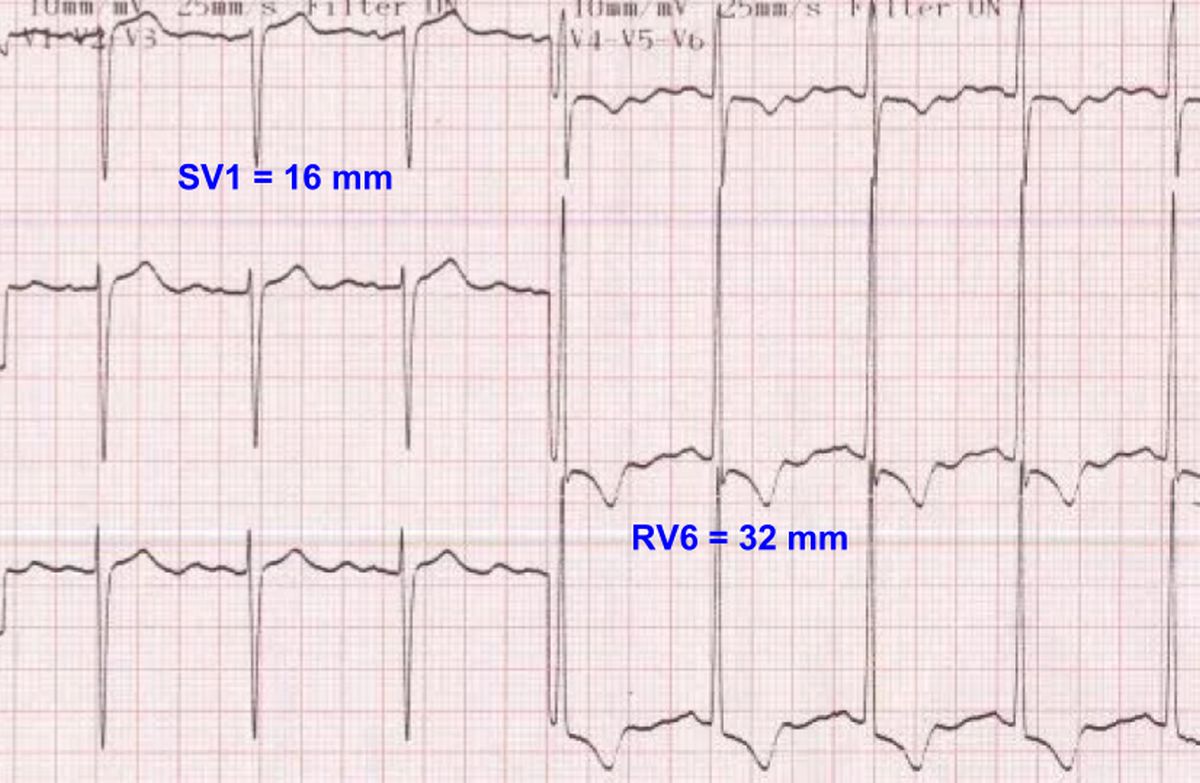 Sokolow-Lyon criteria for left ventricular hypertrophy was published by Sokolow and Lyon in American Heart Journal.1 The article was revisited by the same authors in 2001 in the Annals of Noninvasive Electrocardiology.2
Sokolow-Lyon criteria is based on the fact that left ventricular activity is represented by the R wave in left oriented leads and S wave in right oriented leads. This is because left ventricular activation proceeds in a direction away from the right oriented leads and towards the left oriented leads. In Sokolow-Lyon criteria, V5 and V6 are taken as left oriented leads and V1 as right oriented lead. Sokolow-Lyon criteria is one of the most popular criteria for checking left ventricular hypertrophy in the ECG because it is easy to remember, though there are several limitations for the criteria. Since it is solely dependent on the voltages on the ECG, conditions which alter the conduction of electrical forces to the body surface will alter voltages and make the criteria erroneous. In obese individuals the voltages may lower in spite of presence of left ventricular hypertrophy while in thin individuals voltages can be higher even in the absence of left ventricular hypertrophy. Lower voltages in chest leads can also occur in the presence of emphysema.
S wave in V1 + R wave in lead V5 or V6 > 3.5 mV (35 mm on standard ECG)
OR
R wave in V5 or V6 > 2.6 mV (26 mm on standard ECG)
References
Sokolow M, Lyon TP. The ventricular complex in left ventricular hypertrophy as obtained by unipolar precordial and limb leads. Am Heart J. 1949;37:161-186.
Sokolow M, Lyon TP. The ventricular complex in left ventricular hypertrophy as obtained by unipolar precordial and limb leads. 1949. Ann Noninvasive Electrocardiol. 2001 Oct;6(4):343-68. (Free full text available as downloadable pdf)