Tiger catheter for transradial coronary angiography
|
Tiger catheter for transradial coronary angiography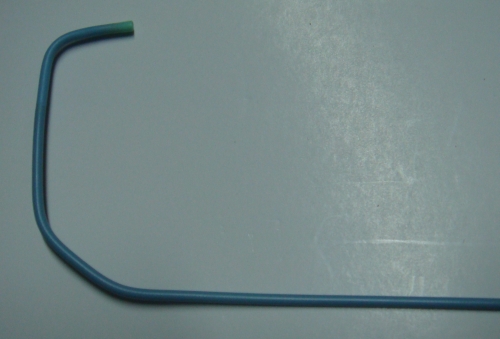 Tiger catheter for transradial coronary angiography
Tiger catheter is used for transradial coronary angiography: If Judkins catheter is used for transradial coronary angiography both right and left Judkins catheter have to be used to engage the respective coronary ostia. This means that a catheter exchange is required for completion of coronary angiography. While using the transradial route, the more the number of catheter exchanges, more likely it is get radial artery spasm. Severe spasm can cause catheter to be trapped within the artery. The advantage of tiger catheter is that the same catheter can be used to engage both the right and left coronary artery.
The JUDGE study (Randomised comparison of JUDkins vs. tiGEr catheter in coronary angiography via the right radial artery) compared Tiger-II catheter with Judkins 3.5L/4R catheters in coronary angiography by the transradial route [1]. Three hundred and twenty patients were included in both groups. Volume of contrast needed was lower for the Tiger-II group (66.8 vs. 73.4, p<0.001). Angiography time, fluoroscopy time and occurrence of severe spasm were significantly lower with Tiger-II catheter. Contrast opacification was better with Tiger-II catheter for right coronary artery, while it was slightly inferior in the case of left anterior descending coronary artery and left circumflex coronary artery.
A recent dual center registry of 1412 transradial procedures also made a similar comparison [2]. They noted less fluoroscopy time and less contrast volume with Tiger=II. Occurrence of forearm hematomas was less often with the Tiger-II (1.2% vs. 6.6%, p< 0.02). Ostial instability during engagement was noted more often on the left than right coronary artery for Tiger-II catheter (34.4% vs. 10.8%, p<0.001). But it was similar for both sides for Judkins catheters (27.4% vs. 26.7%, p = 0.840).
One of the important advantages and reason for popularity is the early ambulation with transradial procedures, especially in the elderly group. The occurrence of bleeding complications are also significantly lower with transradial procedures. But catheter advancement can sometimes be difficult due to tortuosity of the arteries in the arm and neck, resulting in higher radiation exposure to the operator and the patient. Avoiding catheter exchange by the use of Tiger-II is an advantage in reducing radiation exposure.
References
Xanthopoulou I, Stavrou K, Davlouros P, Tsigkas G, Koufou E, Almpanis G, Koutouzis M, Tsiafoutis I, Perperis A, Moulias A, Koutsogiannis N, Hahalis G. Randomised comparison of JUDkins vs. tiGEr catheter in coronary angiography via the right radial artery: the JUDGE study. EuroIntervention. 2018 Mar 20;13(16):1950-1958.
Langer C, Riehle J, Wuttig H, Dürrwald S, Lange H, Samol A, Frey N, Wiemer M. Efficacy of a one-catheter concept for transradial coronary angiography. PLoS One. 2018 Jan 2;13(1):e0189899.