What is Belhassen's VT?
|
Belhassen's VT: Idiopathic Fascicular Ventricular Tachycardia
Heart Disease FAQ / Brief Review
Abstract: Belhassen's VT is idiopathic fascicular ventricular tachycardia originating from the left posterior fascicle. It is responsive to verapamil and is an ablatable VT.
On Belhassen's VT for Heart Disease FAQ
Belhassen's VT is a fast rhythm originating from the left ventricle. VT is short for ventricular tachycardia. It is named after the person who described it. Belhassen's VT originates from a branch of the left bundle branch known as the posterior fascicle. Hence it is also known as posterior fascicular tachycardia. To be more exact, its name is idiopathic posterior fascicular tachycardia. Idiopathic means of unknown origin, indicating that it is not secondary to a known cause like a heart attack with loss of blood supply to the region. It manifests in the ECG with a pattern simulating right bundle branch block with left axis deviation of the QRS complex.

More on Belhassen's VT
Belhassen and associates described a ventricular tachycardia responding to verapamil,1 unlike the usual ventricular tachycardias which respond to lignocaine. It may be noted that verapamil is conventionally a drug used for treatment of supraventricular rather than ventricular tachycardia. Even though other authors had reported on ventricular tachycardias with relatively narrow QRS complex originating from the posterior fascicle,2 it was Belhassen and colleagues who suggested this form of ventricular tachycardia as a separate entity.3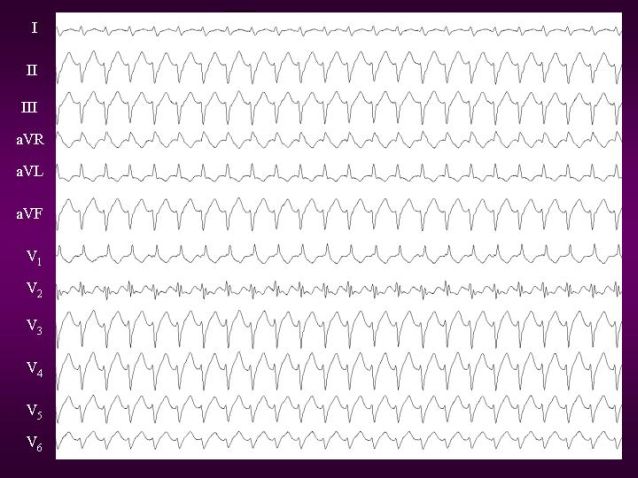 12 lead ECG of Idiopathic Fascicular Ventricular Tachycardia showing classical right bundle branch block (RBBB) pattern with leftward axis morphology suggestive of posterior fascicular origin. (Courtesy: Francis J, Gupta AK et al)4.
ECG patterns in fascicular ventricular tachycardia
Classical ECG pattern in Belhassen's VT is right bundle branch block pattern with left axis deviation as it originates from the left posterior fascicle. Tachycardia originating from the left anterior fascicle has right bundle branch block pattern with right axis deviation and that originating from the left septal fascicle has right bundle branch block pattern with normal axis.4

Treatment of Belhassen's VT
Though intravenous verapamil is useful for termination of the tachycardia, success in prophylaxis is variable. Some cases respond to oral propranolol prophylaxis. Radiofrequency catheter ablation is a good option for Belhassen's VT with good success rates being reported.4

References
Belhassen B, Rotmensch HH, Laniado S. Response of recurrent sustained ventricular tachycardia to verapamil. Br Heart J. 1981 Dec; 46(6): 679-82.
Cohen HC, Gozo EG Jr, Pick A. Ventricular tachycardia with narrow QRS complexes (left posterior fascicular tachycardia). Circulation. 1972 May; 45(5): 1035-43.
Belhassen B, Shapira I, Pelleg A, Copperman I, Kauli N, Laniado S. Idiopathic recurrent sustained ventricular tachycardia responsive to verapamil: an ECG-electrophysiologic entity. Am Heart J. 1984 Oct; 108(4 Pt 1): 1034-7.
Francis J, Venugopal K, Khadar SA, Sudhayakumar N, Gupta AK. Idiopathic Fascicular Ventricular Tachycardia. Indian Pacing Electrophysiol. J. 2004;4(3):98-103.