Apical four chamber and five chamber views in echocardiography
|
Apical four chamber and five chamber views in echocardiography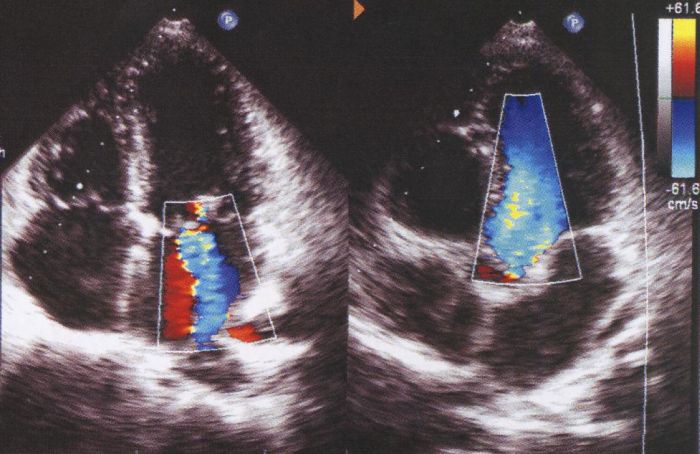 Apical four chamber view images all four cardiac chambers while apical five chamber view images all four cardiac chambers and proximal ascending aorta. Apical four chamber view is used to assess the chambers and septa as well the atrioventricular valves. Atrioventricular valve regurgitation and stenosis can be seen well in these views. Regurgitation jet gradients and slopes can be estimated from this view. Gradients in mitral and tricuspid stenosis are also estimated from the apical four chamber view.  Inlet and muscular interventricular septum is visualised well in four chamber view. Atrioventricular septal defects, Ebstein's anomaly of tricuspid valve, primum and secundum atrial septal defects and masses in the cardiac chambers like myxomas are other structures which can be seen well in this view. Clots in the cardiac chambers can also be seen. But left atrial appendage clot is not visualised in this view.
Apical five chamber view is good to visualise aortic stenosis and regurgitation jets. Perimembranous ventricular septal defect can also be imaged well in this view. Gradient in aortic stenosis is estimated by placing the cursor exactly as guided by the apical five chamber view, to get good Doppler tracings.
The left half of the image shows apical four chamber view. The bluish mosaic jet seen in the left atrium is due to mitral regurgitation. Since the jet is reaching near the pulmonary veins, it can be considered moderate in severity. The difference in the levels of attachment of the mitral and tricuspid valves can be appreciated in this view. The tricuspid valve is placed slightly distal to the mitral valve. The valves will be attached at the same level in the presence of inlet ventricular septal defect. The septal tricuspid leaflet will be attached further distally in case of Ebstein's anomaly of the tricuspid valve. The small segment of septal tissue between the attachments of septal tricuspid leaflet and anterior mitral leaflet is known as the atrioventricular septum.
The right half of the image shows apical four chamber view. The blue flow in the left ventricular outflow tract is the forward flow into the aorta and it can be seen just crossing the partially open aortic valve.