Parasternal long axis (PLAX) view in echocardiogram – animated view
|
Parasternal long axis view in echocardiogram – animated view: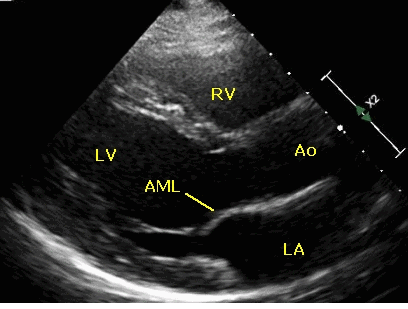 Parasternal long axis view in echocardiogram – animated view
Parasternal long axis (PLAX) view in echocardiogram – animated view: In this animated view from parasternal long axis, the focus is on the movement of the anterior mitral leaflet (AML). Movement of posterior mitral leaflet is not conspicuous in this view, though it can be seen moving posteriorly on close inspection (not marked). Anterior mitral leaflet almost touches the interventricular septum in the fully open position. RV: right ventricle; LV: left ventricle, LA: left atrium; Ao: aorta.
Parasternal long axis view is often the first view obtained during an echocardiographic study. It is used to guide M-Mode echocardiography for left ventricular measurements. Initially the parasternal long axis view is obtained. When satisfactory images are available after fine adjustments of the transducer position, M-Mode cursor is placed in such a way that it is at the chordal level. Then the M-Mode button is pressed so that M-Mode tracings are obtained.
Images used for this animated sequence are given below: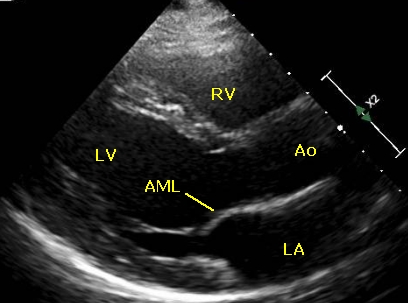 Mitral valve is seen in a nearly closed position. Left ventricular outflow tract anterior to AML is seen as very wide. Aortic leaflets are not visible as they are thin and in the fully open position, almost merges with the aortic wall echoes.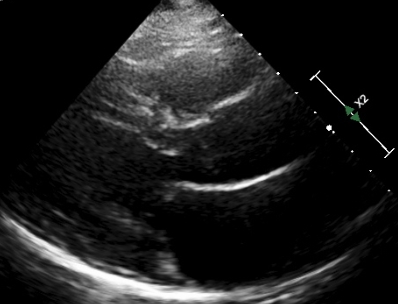 Mitral valve is seen in the partially open position, jutting into the left ventricular outflow tract. Aortic valve can be seen faintly across the aorta in a closed position.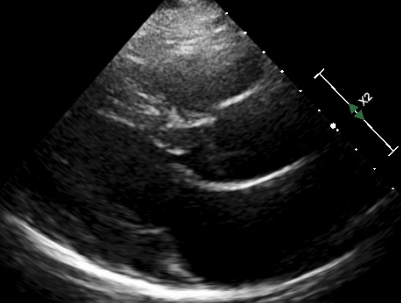 Mitral valve is seen to be widely open and the aortic valve closed. Anterior mitral leaflet almost reaches the interventricular septum. Wide mitral orifice is visible.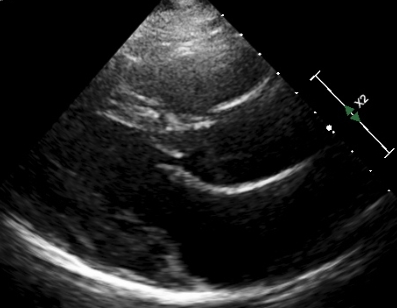 One more frame with mitral valve open and aortic valve closed.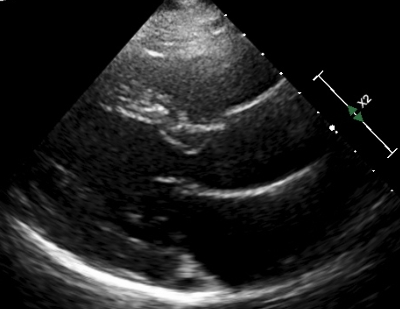 Mitral valve has started closing and moves towards the posterior leaflet.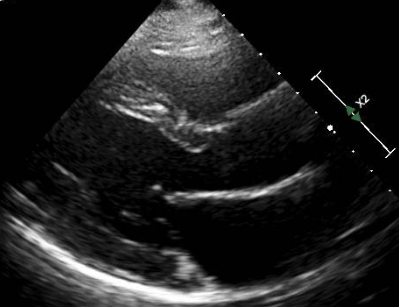 Mitral valve is moving further posteriorly.
A study from Australia evaluated the efficacy of a single parasternal long axis view sweep of the heart (SPLASH) to screen for rheumatic heart disease in children [1]. They enrolled 1365 school students in the prospective study which compared SPLASH with standard echocardiographic screening as per World Heart Federation echocardiographic criteria [2]. Abnormal SPLASH were found in 109 children. Estimated prevalence of definite and borderline rheumatic heart disease was 35.2 per 1000. 11 children with congenital heart disease were found, of which two were needing cardiac surgery. No cases of rheumatic heart disease or significant congenital heart disease were missed on SPLASH screening. Sensitivity was 1.0 and specificity 0.95 for identifying rheumatic heart disease [1].
References
Remenyi B, Davis K, Draper A, Bayley N, Paratz E, Reeves B, Appelbe A, Wheaton G, da Silva Almeida IT, Dos Santos J, Carapetis J, Francis JR. Single Parasternal-Long-Axis-View-Sweep Screening Echocardiographic Protocol to Detect Rheumatic Heart Disease: A Prospective Study of Diagnostic Accuracy. Heart Lung Circ. 2020 Jun;29(6):859-866.
Reményi B, Wilson N, Steer A, Ferreira B, Kado J, Kumar K, Lawrenson J, Maguire G, Marijon E, Mirabel M, Mocumbi AO, Mota C, Paar J, Saxena A, Scheel J, Stirling J, Viali S, Balekundri VI, Wheaton G, Zühlke L, Carapetis J. World Heart Federation criteria for echocardiographic diagnosis of rheumatic heart disease–an evidence-based guideline. Nat Rev Cardiol. 2012 Feb 28;9(5):297-309.